When asking the enterprise leaders about the current situation of motorcycle industry, they say they must introspect and seek for better development and improvement. At the same time, the industry badly calls for support from relative government. There need to be regulated industry norms.
Of course, the dominant sector for development is self-transformation and upgrading. For domestic market, the motorcycle enterprises have to bring out products that meet the latest urban and rural use purpose. For overseas market, they must improve the overall performance, appearance of the motorcycle as well as after sales service to compete with world big brands and maintain long-term business relationship with their business partners. The Chinese manufacturers never stop trying and are progressing day by day.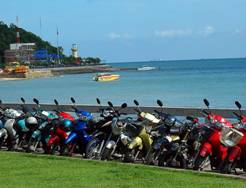 To be optimistic, we see that motorcycles have become an indispensable part of people's life. Worldwide, motorcycles are good workers assisting people in countless chores and in a variety of environments. Also there are a large number of motorcycle hard-core fans who never give up motorcycle since they got a first-time touch of it. Some of them become professional motorcycle racers, and some of them make motorcycle their life-long partners. With vision and foresight, manufacturer can even explore new applications and innovative options for motorcycles. Therefore, motorcycles will not lose its market, but only evolve to better exist.