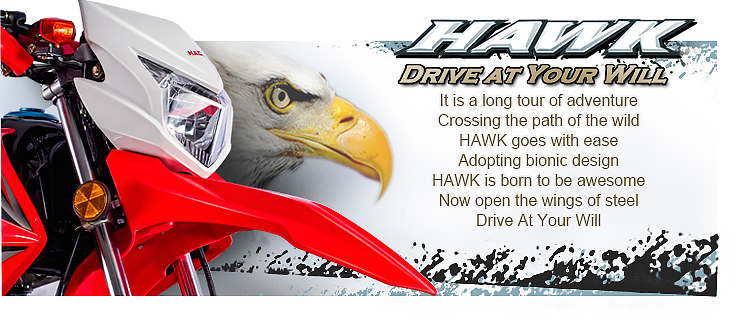 After thoroughly examining the demands of recent customers from different perspectives, the development team of Haojin Motorcycle finally strived to create the HJ200GY-3 Hawk model, which is admired as one of the most representative dual sport motorcycles by motorcyclists. The introduction of the Hawk aims to fill market gaps and better satisfy the multi-faceted personalization requirements of consumers, specifically riders who need to travel rougher roads. The most outstanding features of this latest design include its innovative and practical outline, a sense of satisfactory control and power sufficiency.

Integrating a cutting-edge style and various pieces of innovative designs, the Hawk is born to be unique and classic. At the first glance, you would impressed by its frame which is made into a set of smooth surfaces. Special attention has been paid to express a robust and tough exterior appearance with the beak-shaped front mudguard and fashionable stickers. Moreover, the light and compact digital meter has superb visibility whereas the diamond-faceted head and tail lights ensure high-intensity light. Also, the combination of bright red and white colors provides a superb cool looking for the seat. Last but not the least, strengthened muffler with heat-proof panel and dual-structure protector intends to improve heat radiation by effectively and quietly releasing heat.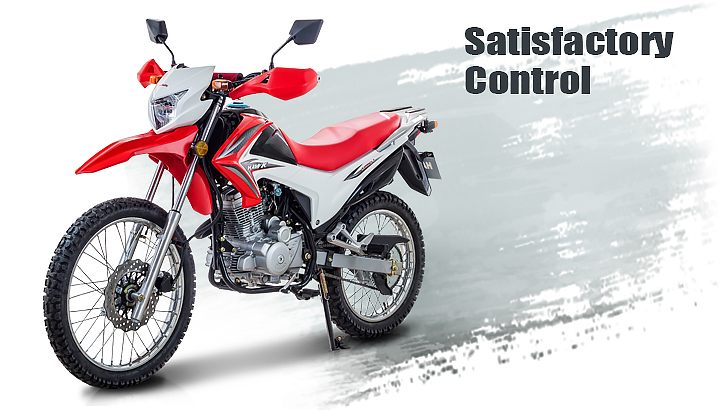 The development of the Hawk has always retained the basic concepts of being more fun and controllable to ride on road as well as off road. As a result, both tires are created to offer high road-holding capacity and run-through ability, befitting on-road and off-road conditions. In addition, the central shock absorber efficiently reduces the vibration while the anti-twist steel frame helps you easily conquer the wild environment. Finally, with its strong power, the Hawk delivers excellent performance and provides comfortable experience: max handle turning angle – 43°; min turning radius – 2.0m; max climbable gradient – 35°.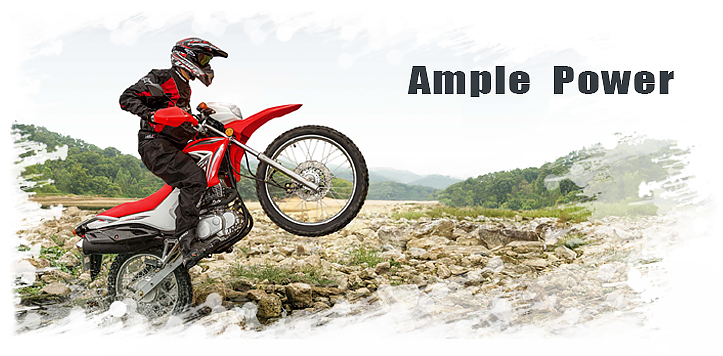 Another significant feature of the Hawk is its CG200 engine with rapid acceleration and remarkable endurance. This new engine is designed to be lightweight and compact with smooth turnover, not just in the low- to mid-rpm ranges but also the high rpm range. Furthermore, full traction performance and powerful torque are developed to give the rider easy control of the machine even off road. To achieve a fun, easy-to-handle ride, exclusive designs are also added to other sections, including an 8L fuel tank capacity and fuel consumption of 2.5L/100km.