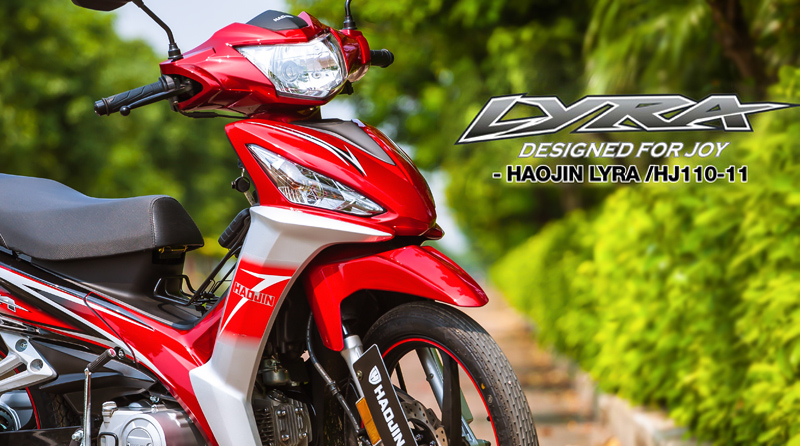 To fully experience the performance of HJ110-11 LYRA, MEGA CHINAMOTOR picked a route that ran through the urban area of the city to the seaside at the subur ban area for the test ride. LYRA showed its advantages as a cub in various environments and road conditions.
Pleasing Appearance
Developed by HAOJIN for both domestic and foreign users, LYRA is a fashionable, dynamic, flexible, practical, recreational, and comfortable cub. It takes on sporty outline as well as appropriate colors and decors to create a stylish look. The newly-designed butterfly-shaped headlight features high light concentration for better cycling safety. The wing-shaped front fairing complies with aerodynamic rules to effectively reduce windage. Its backlit LED dashboard with luminous pointers clearly displays indicators including the travelling speed, mile age, fuel efficiency, and rotational speed. The all-in-one taillight with a diamond cutting style increases fascination and cycling safety during the night. To make LYRA more funny, HAOJIN adds the music playing function, which consists of a MP3 player, a digital control panel, and the bluetooth connectivity, so that riders can listen to music anytime anywhere.




Marco rode LYRA flexibly passing through the traffic and left our support vehicle far behind soon after we set off. The 4-stroke engine powering LYRA adopts a fuel conservation technology and an optimized exhaust system to boost power and at the same time ensure adequate mileage. The engine was proved highly reliable. During the ride, we entered a small county with a heavy traffic jam and frequent traffic lights, while the engine responded precisely to the throttle changes to enable Marco to easily move and pass the vehicles on the road.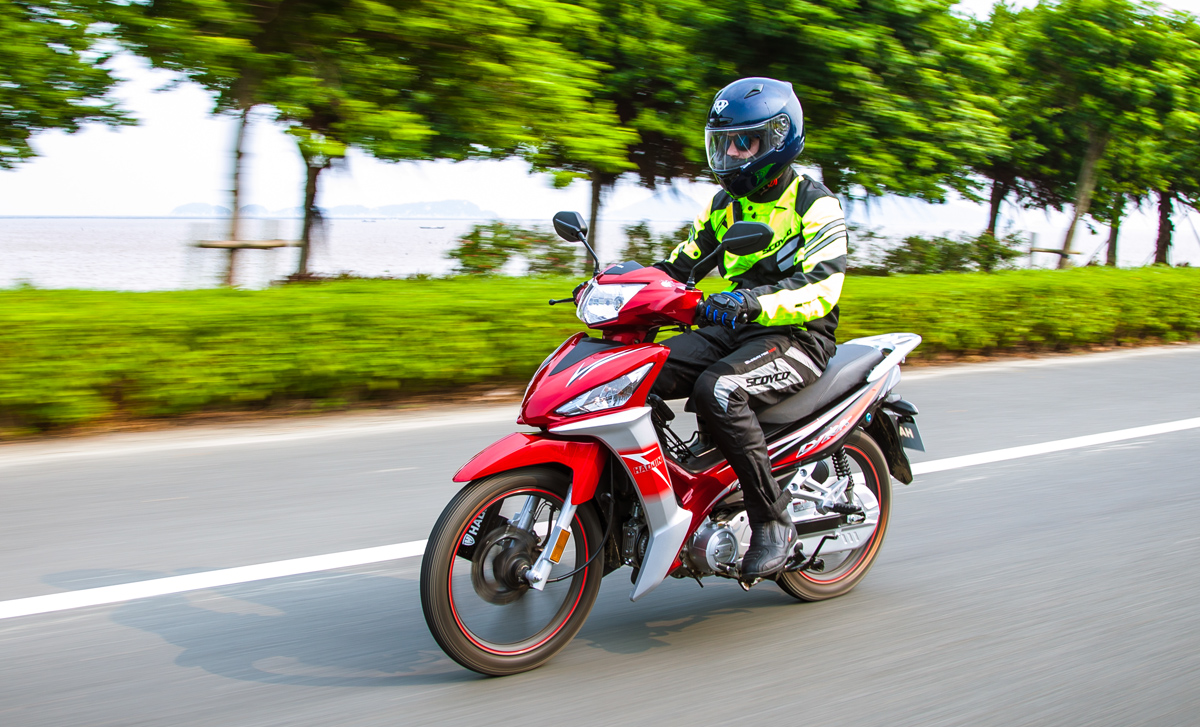 To ensure a more accurate fuel efficiency measurement, before we got started we emptied LYRA's fuel tank and filled it with 1L fuel. It ran out of fuel after 45 kilometers at an average speed of 40 km/h. The refilled second, third, and fourth liters sustained 42km, 45km, and 43km respectively. The again proved the high fuel efficiency of LYRA as a cub. LYRA's engine provided a source of sufficient power during the test ride. In addition, the brake and the steering operations of the motorcycle are also flexible and smooth. Marco was impressed by LYRA's high throttle responsiveness and chassis stability when turning corners.

With an aim to develop a highly comfortable and practical cub, HAOJIN has adjusted its engine and brake pedal to appropriate heights and created a minimum ground clearance of 140mm to ensure better trafficability. HAOJIN has also equipped LYRA with a large-sized saddle with a thickness of 45 mm, feeling like sitting on a sofa during the ride. The multi-functional compartment under the saddle provides space for a half-face helmet as well as a USB port for recharging mobile phones. Following ergonomic rules, the designer sets the saddle, handlebar, and footpegs to appropriate heights and angles, which provides much riding comfort.
Rider's Comment
HAOJIN's LYRA/HJ110-11 is a fashionable and dynamic cub that features lightweight, high fuel efficiency, and plentiful power. Its streamlined body, stylish colors and decors, sharp front view, delicate dashboard, considerate MP3 functionality, pleasing controllability, and comfortable riding experience will surely gain a maximum users' satisfaction among urban residents, especially young people.